---
You shop. Amazon gives.
Amazon will donate 0.5% of the price of your eligible AmazonSmile purchases to Dundee Township Historical Society whenever you shop on AmazonSmile.
AmazonSmile is the same Amazon you know. Same products, same prices, same service.
Support your charitable organization by starting your shopping at smile.amazon.com
LOST TO HISTORY
 The face of Dundee's Main Street has recently seen another dramatic change. The Edwards home at 310 West Main has been lost to history. After a short time of dis-use and being exposed to the elements, it has deteriorated beyond repair and was slated for demolition.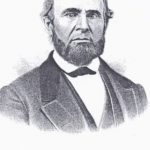 Alfred Edwards was born August 5th, 1803 in Greenfield, Saratoga County, New York. He came west in 1835 and entered into the mercantile business with is brother-in-law O. Cromwell Bosworth. The following year he relocated to Chicago and entered into business with Franklin Bosworth at South Water & Clark Streets.
He returned home briefly to arrange for his family to follow him west. His wife, Lucinda Bosworth Edwards, and their two children Mary and Henry C. made the eventful journey to the city on the lake.
In 1839, he once again relocated, moving his holdings to a tiny village northwest of the rapidly growing city. Here in Dundee, at the age of 36, he entered into business with his brother-in-law, Increase C. Bosworth. According to local history they had two establishments, one selling for cash, the other for credit.
He invested in his surroundings with land holdings estimated at 1000 acres.
Mr. Edwards was a member of the abolitionist wing of the Republican Party supporting "Union and Freedom". There is no evidence that he participated in "Underground Railroad" activity as other members of the community are said to have been involved.
In 1841 he set aside land to be designated as a cemetery so his infant daughter, Olevia, would have a proper burial. Eventually five Edwards infants would be laid there, side by side, gone to their eternal rest.
The 1850 census shows Mr. Edwards, a merchant age 48, living in a stately brick home at 310 West Main Street along with his second wife, Julia, age 34, and four children: Mary, age 18; Henry, age 18; Elizabeth, age 12; and Ellen, age 1.
In 1855 he erected the "brick block" in East Dundee. There he conducted a mercantile business for a number of years until turning it over to his son, Henry, a veteran of the "Great Rebellion". He used his influence and finances to bring the Chicago & North Western Railway System to the Dundees, giving the right of way across his land and financing the construction of a depot.
In 1868 he borrowed money, and together with his son-in-law, Julius Angelo Carpenter, they purchased controlling interest in The Illinois Iron & Bolt Company located in Carpentersville.
Alfred Edwards was a man of vision who helped build a community we are proud of to this day. Mr. Edwards died on January 31st, 1875 at the age of 72. He left a legacy to be honored by those left to carry on.