---
You shop. Amazon gives.
Amazon will donate 0.5% of the price of your eligible AmazonSmile purchases to Dundee Township Historical Society whenever you shop on AmazonSmile.
AmazonSmile is the same Amazon you know. Same products, same prices, same service.
Support your charitable organization by starting your shopping at smile.amazon.com
We Are History Documentary Series
Most recorded history starts as a "word of mouth" story told from one person to another or handed down from generation to generation.   The age of video recording is changing that, however there are still many "historical treasures" being "kept secret" inside the memory banks of many making Us all a part of history.   It is our mission to record and share those treasures with everyone because "We Are History".
IF YOU ARE INTERESTED IN BEING INTERVIEWED ON VIDEO TAPE, PLEASE CONTACT THE HISTORICAL SOCIETY AT dths@sbcglobal.net
---
---
Featured Civil War Soldier
Colonel Jerome Davis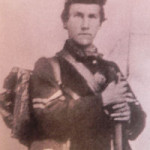 Jerome Davis enlisted on the outbreak of the Civil War, as a private in the 52nd Illinois.   During the Battle of Shiloh, where the regiment lost 170 out of 500 men, he won the commission of 2nd Lieutenant.   While bearing the regimental colors he received a severe wound in the thigh.   Comrades, under his direction, gave as much crude first aid as they could, but he lost consciousness and was left on the field for dead.   Later, he was moved to the deck of a steamer where he laid on the deck for two days before his wound was properly dressed.   He recovered and during the Atlanta Campaign and the March to the Sea, he progressed thru the ranks until reaching the rank of Colonel.   As a "Boy Colonel" he led the 52nd in the Grand Review at Washington on May 24, 1865.
After the War he graduated from Beloit College and entered the Chicago Theological Seminary in 1866.   During part of this time he lived in Dundee, IL and was a member of the Congregational Church, where he served as a clerk.   Upon his graduation from the Seminary, in 1869, he and his wife, Sophia Strong, moved to Cheyenne, Wyoming where they took on the work of "Pioneer Missionaries" .   Two years later they sailed to Japan, being only the third family to enter that land as Missionaries under the American flag.   With no one willing to sell or rent a house to these "setter forth after strange Gods", they finally obtained shelter in an old heathen temple where their first daughter was born.
Colonel Davis devoted almost 40 years of his life in Japan where he finally died on November 4, 1910.